Do you seriously intend to gain huge mass? Do you want to build your body far beyond normal? You have come to the right place. Using this bodybuilding supplement, you will most certainly look like you've always dreamed about! It's your time to develop huge and bulk muscles and increase your strength consuming a supplement which is 6 times more powerful than even Testosterone! Introducing Blackstone Labs Abnormal!
Gain a Ripped Constitution
Monster Strength and Power
Take up to 8 Weeks to Cycle
Non-Methylated and Non-Toxic
Anabolic, Androgenic Ratio of 12 to 1
6 Times Stronger Than Testosterone
Faster Recovery
Developed by Blackstone Labs, Abnormal supplement is an extremely powerful muscle bulking formula helping you to increase size, strength, and improve your muscles recovery period. The supplement is powered by 19-Nor DHEA which is 6 times stronger than Testosterone. In case you are willing to get something out of this world, Abnormal is most certainly meant for you.
Where to buy "Abnormal" ?
Like all Blackstone Labs supplement, you can buy Abnormal in several online store. Prices are about the same everywhere but we've selected for you guys the best stores. Just follow this link below to judge by yourself: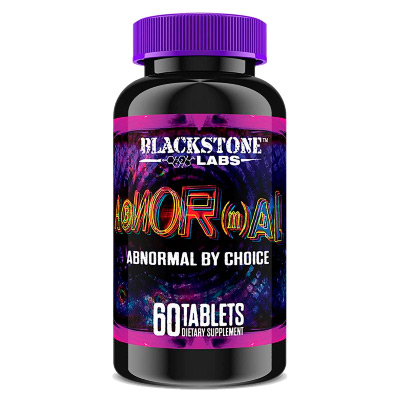 Abnormal – Blackstone Labs (4.7 / 5)
Get the Best Price on Abnormal:
Delivery System
With all products manufactured by competitors, you have to be in time constantly controlling when to take each dose. On the contrary, the Blackstone Labs Company utilizes its pharmaceutical grade Liposomal delivery system which helps you control the release of 19-Norandrostenediol in AbNORmal. This delivery system ensures a sustained release of 19-Norandrostenediol during your entire cycle rather than short periods within each day. There no need for you to take pills 3 to 4 times per day anymore. From now on, take 1 capsule in the morning with your breakfast and 1 capsule with your dinner… and the supplement will ensure a constant release of 19-Norandrostenediol into your body.
Dosage and Administration
Blackstone Labs recommends you to take one capsule with food every morning and one capsule with food every evening. Never exceed two capsules per day. This supplement can be cycled for up to 8 weeks (you will need two bottles).
Post Cycle Support & Stack
With this prohormone, you will need a PCT. We recommend PCT V by Blackstone Labs. Stacking AbNORmal + Chosen1 or Brutal 4ce.