Our Review of Animal Test – Universal Nutrition
Like all their supplements, Universal Nutrition has put a lot of effort (ingredients) in their Animal Test. By combining ingredients that increase the testosterone levels and anti-estrogen ingredients, they made a very good Testosterone Booster. Yes Animal Test is quite expensive (the reason of 3.5/5 for ratio price/quality) but it's the most complete Testosterone Booster on the market. You can either use it for an OTC PCT or just to boost your testosterone levels…
Product Description of Animal Test – Universal Nutrition
Made of with a huge wave of ingredients: 3,4-Divanillyl Tetrahydrofuran, Cissus Quadrangularis Extract (Ketosterones), Trans-3,5,4′-trihydroxystilbene, Agaricus Bisporus (Polysaccharides), 3′,5,7-Trihydroxy-4′-methoxyflavone, Yohimbe Bark, Arachidonic Acid (40% In A Proprietary Fatty Acid/Oil Blend), 6′,7′-Dihydroxybergamottin, Bioperine. Animal Test is the ultimate solution to boost your testosterone levels and control your estrogen levels.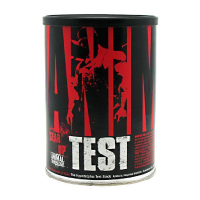 Where to buy Animal Test – Universal Nutrition ?
(5 / 5)
Want to share your review for Animal Test – Universal Nutrition ?
You can select your own rating on the right side (User Rating) and leave out a comment.