Our Review of Estro Block
Estro Block is a good natural anti-estrogen supplements that will gives you middle range effects. Since Estro Block contains only natural ingredients, you should use this anti-estrogen only on cycle and not for an OTC PCT.
Product Description of Estro Block
Estro block contains a small number of natural ingredients proven to control the estrogen level. Estro Block contains : DIM (Diindolylmethane), I3C (Indole 3-Carbinol) and many vitamins. All of these ingredients works together to control estrogen (more libido, increase of test levels, lower fat storage (increase of the hardness of the muscles) and so on.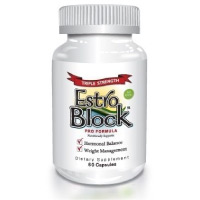 Where to buy Estro Block – TRIPLE STRENGTH ?
(5 / 5)
Want to share your review for Estro Block ?
You can select your own rating on the right side (User Rating) and leave out a comment.