Inhibit-P Review
Our Review of Inhibit-P – Serious Nutrition Solutions
Inhibit-P by Serious Nutrition Solutions is a powerful anti prolactin supplement. I've took myself Inhibit-P during one of my prohormone cycle to decrease the potential "elevated prolactin level" issue and everything went fine with no side effects at all ! Inhibit-P uses the power of 3 proven ingredients to control and reduce prolactin level : Pyridoxal-5-Phosphate (p5p – active form of vitamin b6), Mucuna Pruriens (concentration 60% of L-Dopa) and 300 mg of Vitex Agnus Castus per pill. Add to this a very nice price of $17-24 per bottle, to me this is the best anti prolactin supplement on the current market.
Want to share your review for Inhibit-P – Serious Nutrition Solutions ?
You can select your own rating on the right side (User Rating) and leave out a comment.
Where to buy Inhibit-P – Serious Nutrition Solutions ?
Inhibit-P can be found in pretty much all the good bodybuilding online stores. Moreover, Serious Nutrition Solutions has really good prices : you can buy Inhibit-P for like $17-24 with the link below. (If not available, just look links below to other anti prolactin supplements) :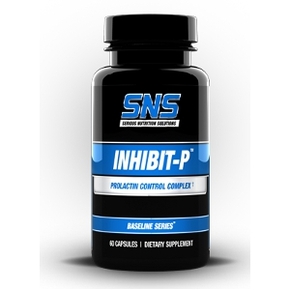 Buy Inhibit-P – Serious Nutrition Solutions (SNS)
You can have other offers for a quality anti prolactin supplement here:
– Buy Prolactrone by Black Lion Research
Product Description of Inhibit-P – Serious Nutrition Solutions
You're worried about having an issue with prolactin / progestin for your prohormone cycle ? Serious Nutrition Solutions got the solution with Inhibit-P, a potent anti prolactin supplement that uses the power of some natural ingredients. Pyridoxal-5-Phosphate, Mucuna Pruriens (concentrated 60% L-Dopa) and Vitex Agnus Castus works all together to control and decrease the prolactin level in your body. Forget the puffy nipples and gyno problems during your cycle with Inhibit-P !