M-Drol Review
Our Review of M-Drol – Competitive Edge Labs
M-Drol by Competitive Edge Labs is by far the most popular Superdrol prohormone ever made. Quality and price is what made M-Drol so acclaimed by the hardcore bodybuilders. Oh yeah, there is always also the extreme strength and lean mass gains you could expect with it ! Won't say it twice, M-Drol could gives about 20 lbs of muscle in 4 weeks ! This methylated prohormone is strong but our rating is little bit less than some other Superdrol prohormones because of his current price quite high.
Want to share your review for M-Drol – Competitive Edge Labs ?
You can select your own rating on the right side (User Rating) and leave out a comment.
Where to buy M-Drol – Competitive Edge Labs ?
Victim of its hype, M-Drol has been discontinued and recalled by Competitive Edge Labs (CEL) since March 18 2011. Add the last prohormone ban to this, it's most likely impossible to buy M-Drol. You can try the link below. (If unavailable, look below for other links to Superdrol Clones) :
* Note : Since the superdrol ban in the US, you can find an alternative to Superdrol prohormones with MethylStenbolone (look out our ph profiles).
** Note : Before buying anything that looks like M-Drol, go read about our article about legit and fake prohormones (fake m-drol case in it).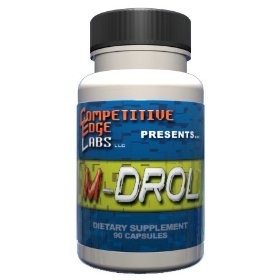 Buy M-Drol – Competitive Edge Labs
See other offers for a quality Superdrol Clone here :
– Buy Xtreme Mass by Anabolic Technologies
– Buy SD-10 by LGI Supplements
Product Description of M-Drol – Competitive Edge Labs
Competitive Edge Labs M-Drol is the ultimate prohormone. M-Drol is a Superdrol Clone available in bottles of 90 caps with each cap dosed at 10 mg of 2a,17a dimethyl etiocholan 3-one, 17b-ol. No conversion into estrogen (wet compound), no bloat effect : only lean gains ! Big muscles and an awesome strength is what you will get with M-Drol. Please beware that this supplement is very powerful and you should be at least 21 years old before taking it.