PheraFlex Review
Our Review of PheraFlex – iForce Nutrition
PheraFlex by iForce Nutrition was one of the very first Phera Plex prohormone out there. With 90 caps dosed each one with 15 mg of 17a-Methyl-etioallocholan-2-ene-17b-ol, it was also a cheap prohormone because only one pill would suffice to get great muscle gains. Phera Flex is a methylated prohormone that will gives you huge muscle mass gains with a little bit of water retention. Please be aware that a good post cycle therapy and cycle support supplement are necessary to have for a cycle of Phera Flex.
Want to share your review for Phera Flex – iForce Nutrition ?
You can select your own rating on the right side (User Rating) and leave out a comment.
Where to buy PheraFlex – iForce Nutrition ?
Phera Flex (and other Phera Plex prohormones)  has been discontinued and banned since a couple of years ago in the US (2009 more precisely). Therefore, buying PheraFlex iForce Nutrition is almost impossible no matter where you live. You can give it a try with the link below. Beware of fake prohormones… (If not available, just look links below to other phera plex prohormone) :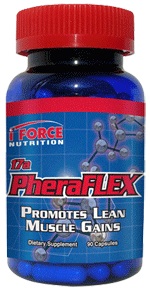 Buy PheraFlex – iForce Nutrition
You can have other offers for a quality Phera Plex prohormone here:
– Buy Nasty Mass by Purus Labs
– Buy Pheravol-V by Chapparal Labs
– Buy P-Plex by Competitive Edge Labs
Product Description of PheraFlex – iForce Nutrition
iForce Nutrition presents you his 17a PheraFlex prohormone : a strong compound precursor to Desoxymethyltestosterone (DMT / Madol) ! Extreme mass gains is what you can expect from PheraFlex as you can get about 15 lbs of pure muscle under a 3-4 weeks cycle. Your muscle mass, strength and energy will literaly explode ! Do not use Phera Flex in prohormone stacks, only in standalone !