Our Review of Propadrol – EST Nutrition
Propadrol by EST Nutrition is a non methylated prohormone very similar to Max LMG / Nandrolone because of its effects and gains. Propadrol is part of safest and mildest prohormones on the market. This prohormone is mainly dedicated for lean gains and to  shred off some bodyfat levels. Main ingredient of Propadrol is 12-ethyl-3-methoxy-gona-diene-17 at 30 mg per pill ! It's a progestin based prohormone so wet gains are normal same if Propadrol contains an aromatase inhibitor ingredient (6-17 dihydroxyetiocholove-3-ol proponate). Taking a supplement of p-5-p can be good to prevent any health problems for that. Good for beginners for a solo run or for prohormone stacks !
Important Note : This propadrol review concerns the original formula ! We don't give a shit about the new formulated Propadrol EP because this is not a prohormone.
Want to share your review for Propadrol – EST Nutrition ?
You can select your own rating on the right side (User Rating) and leave out a comment. *** Original formula, not EP ***
Where to buy Propadrol – EST Nutrition ?
Propadrol (Original Version) by EST Nutrition is a rare prohormone. As far as we know, Propadrol might be a banned prohormone in the USA. Moreover, EST Nutrition discontinued the production of the original version to create a new one with no prohormone in it.
Below, we found a link to buy the original version of Propadrol by EST Nutrition. To be sure of the good version, you should ask the seller for the ingredients in it (with a recent picture) so you really know that you're not taking the New Propadrol EP which is not a prohormone at all.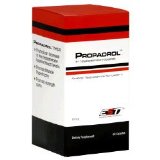 Product Description of Propadrol – EST Nutrition
Est Nutrition gives you Propadrol, a mild prohormone to lean out and get some pur muscle mass. Propadrol contains two ingredients : 12-ethyl-3-methoxy-gona-diene-17 (similar to max lmg and nandrolone) and 6-17 dihydroxyetiocholove-3-ol proponate (look like 3-OHAT) which is an aromatase inhibitor. Middle range gains is what you will get with Propadrol ! Apart some water retention, Propadrol is safe with almost no side effects and it's non methylated…