SD-10 Review
Our Review of SD-10 – LGI Supplements
SD-10 by LGI Supplements is another "great superdrol clone" dosed at 10 mg per caps of 2a, 17a-dimethyl-5a-androstane-3-one-17b-ol with 90 caps bottles. As always, you can expect from this Superdrol prohormone a lot of results : massive muscle mass gains, a huge increase of your strength… Only with a few weeks cycle ! SD-10 is dedicated for advanced users, not beginners since it's an heavy prohormone that can also produces awesome gains but also some harsh side effects. This superdrol prohormone is not suitable for prohormone stacks, you'll need a good cycle support supplement and a legit post cycle therapy. My rating is little lower than others because of the current price which is pretty high.
Want to share your review for SD-10 – LGI Supplements ?
You can select your own rating on the right side (User Rating) and leave out a comment.
Where to buy SD-10 – LGI Supplements ?
Alike all the other Superdrol prohormones, SD-10 by LGI Supplement is not available for sale on many online stores since the last prohormone ban in 2012. You can still try to buy SD-10 with our link below but not sure it will work. (If unavailable, look below for other links to Superdrol Clones) :
* Note : Since the superdrol ban, you can find an alternative to Superdrol prohormones with MethylStenbolone (look out our ph profiles).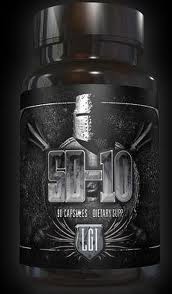 See other offers for a quality Superdrol Clone here :
– Buy Xtreme Mass by Anabolic Technologies
– Buy M-Drol by Competitive Edge Labs
Product Description of SD-10 – LGI Supplements
LGI Supplements is happy to present you one of the strongest prohormones ever made : the famous Superdrol with his clone SD-10. His Name stands for his dosage of 10 mg per caps of 2a, 17a-dimethyl-5a-androstane-3-one-17b-ol. A good ratio price quality is what you will get with it. Indeed, no other prohormone can gives you the same effects that you will have with SD-10. You will be more strong, more energic, more bigger : your muscle mass can increase up to 20 lbs within only four weeks !