Our Review of Tribulus – Now Foods
Tribulus by Now Foods is relatively cheap and will work fine to boost up your libido. However, his effects are more versatile because Tribulus is proven to boost free levels of testosterone. Some might expect an high increase of libido while others will have almost nothing…
Product Description of Tribulus – Now Foods
Tribulus (Tribulus terrestris) by Now Foods is an herbal product that will boost up your libido and sex drive. Extracted at 45% Saponins (active compound in Tribulus), Tribulus by Now Foods is the ultimate herbal product to increase your testosterone levels.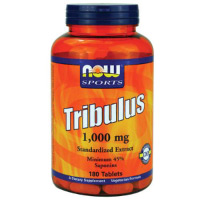 Where to buy Tribulus – Now Foods ?
(5 / 5)
Want to share your review for Tribulus – Now Foods ?
You can select your own rating on the right side (User Rating) and leave out a comment.